2016 will be remembered for sudden demonetisation of old Rs 500 and 1000 notes on November 8. The memory of countless queues of people are certain to become tales of distaste, discomfort and apprehension to be narrated for years to come.
Reportedly, aver a hundred people died in queues due the problems they faced after demonetisation. It may be a matter of debate that how man people demonetisation has actually claimed, but one thing is clear: A lot of people have suffered.
Here are three heart-wrenching stories post demonetisation which not only forced us to think whether the decision was worth this chaos, but also became a mark of sufferings, the masses had gone through in 50 days.
1. Tears that tore hearts, Nand Lal's story
Picture of an old man around 80 in Hindustan Times crying inside a bank in Gurgaon became the face of people's sufferings due to demonetisation. Indiatimes didn't leave it there, it was the first to reach Lal, who bestowed the lesser visible pain of the people with flesh and bone.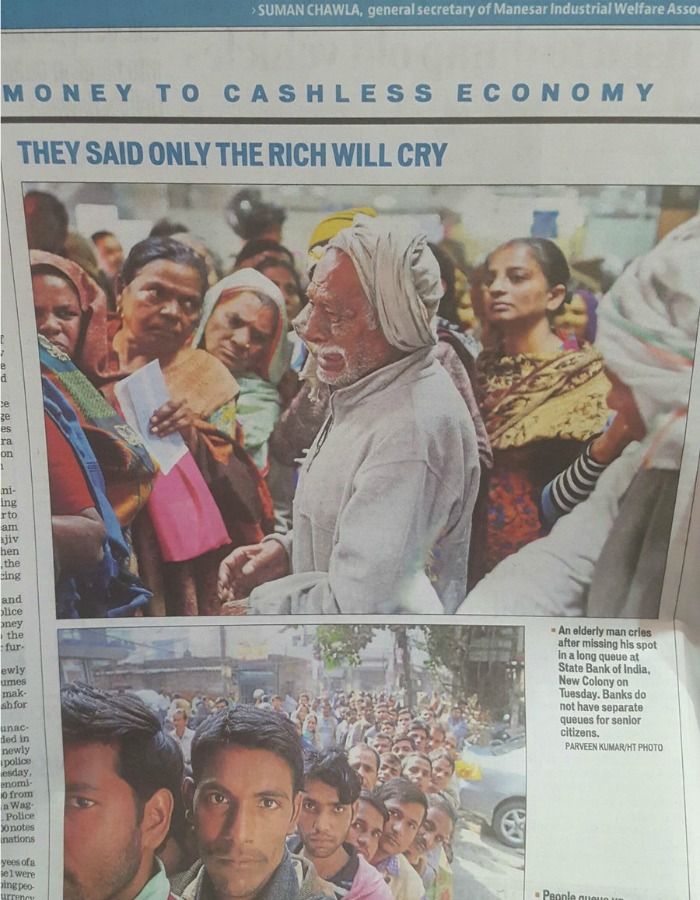 Right from the beginning, demonetisation was garbed as something people should endure in the name of national interest. Many said that we should look up to Indian army soldiers who stand at border to protect us. Can't we stand in queues to make our nation stronger? They asked.
Nand Lal busted this claim. He retired from the Indian Army and now lives in an unconnected village in Gurgaon, India's millennium city.  Yet he didn't get the money, despite visiting bank several times. The old man who kept standing in line days finally got his turn, but when he was told that he would only get Rs 10,000 his patience surrendered and tears started flowing.
"I had been trying for the last four days, but I couldn't get money. At last, when my turn came, they told me that I will get only 10,000, but I required more money since I had to pay my maid and rent. But they didn't give me the money and I broke down," said Nand Lal who lives in Old Gurgaon's Bhim Nagar area in a rented 8X10 room.
2. Her children were hungry, but she waited for 5 days before setting her ablaze
Razia, a 45-year-old construction worker in Aligarh set herself ablaze on November 20th, when she could get her old currency exchanged despite trying for 5 Days and died on December 5.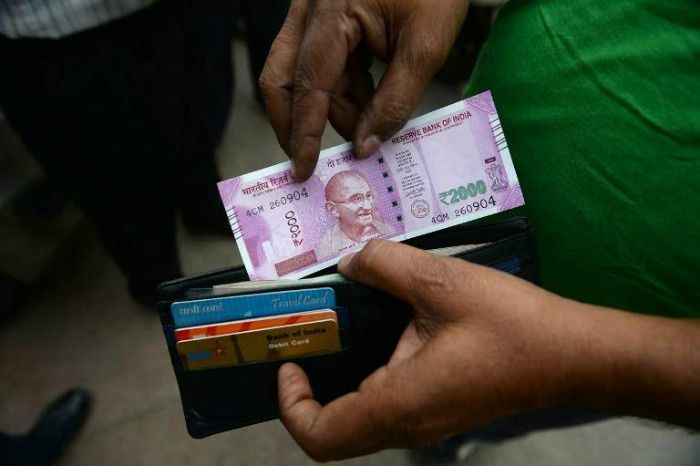 Her family told mediapersons that she immolated herself on the evening of November 20 after "Failing to exchange six notes of Rs 500 despite attempting to do so at different branches of banks in the old city area for five days."
3. Fearing loss of her savings, Telengana woman committed suicide
Fearing that she would lose Rs 54 lakh, a woman in Telangana's Mahabubabad district committed suicide.
Kandukuri Vinoda, 55, hanged herself at her house in Shenagapauram while her husband and son were asleep. The family of farmers was shocked due to sudden announcement by the central government on November 8. A few days ago, the family had sold their 12-acre agricultural land for Rs 56.40 lakh to meet expenses for the treatment of Vinoda's ailing husband.