There have been many records created and broken in the history of cricket. Till 2010, no one ever thought of scoring 200 runs in an ODI match. Sachin Tendulkar was rightfully the first batsman to score a double century in an ODI. Since then, there have been seven double hundreds – 3 from Rohit Sharma, one each from Virender Sehwag, Martin Guptill, Chris Gayle and Fakhar Zaman.
Scoring a triple century in an ODI game has not been considered possible by many teams and players. However, the feat can become achievable at the rate at which batsmanship is evolving. Rohit Sharma's 264 was preceded by a slow start to the innings. He scored his 50 off 72 balls which wasn't an indicator of what was about to follow. If he had started his innings in the same way he finished it, he could have even managed 300 runs.
Virat Kohli has undoubtedly been the best ODI batsman in the last three years. He has broken many records and recently became the fastest batsman to score 10,000 ODI runs. If there is one record he possibly can't break, it will be scoring a triple century.
Kohli is the captain of the Indian side and has lot of responsibility on his shoulders. He comes into bat after the fall of the first wicket and usually cannot express himself freely or start scoring big shots immediately. He will certainly look to settle in and then start scoring which reduces his chance of going big.
#3 Jason Roy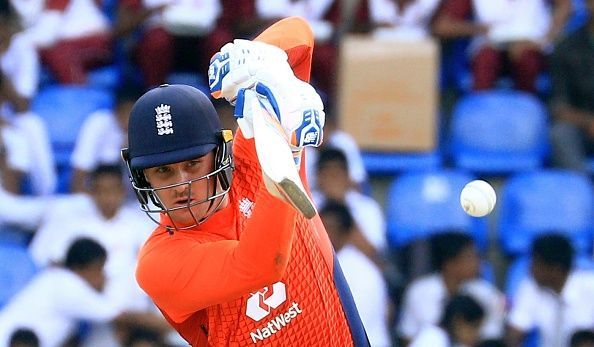 The swashbuckling opening batsman has been a major main reason behind England's drive to the top of the ICC ODI Rankings. Jason Roy is a completely attack minded batsman and likes to get after the bowlers from the word go. Having made his debut in 2015, he has played 70 matches and scored 37.85 as well as a strike rate of 104.23.
His highest score in an innings is 180 which he scored against Australia on during January 2018 while chasing a huge total of 304/8. He has had a great time playing against the Aussies. The right-hander has scored 554 runs from ten matches with three centuries.
Although his highest score came while chasing, Roy's attacking penchant has made the cricketing world turn their heads towards him. His intent of going after the bowlers from the start and the way this England ODI team functions make him a candidate for scoring 300 runs in an ODI match.
#2 Fakhar Zaman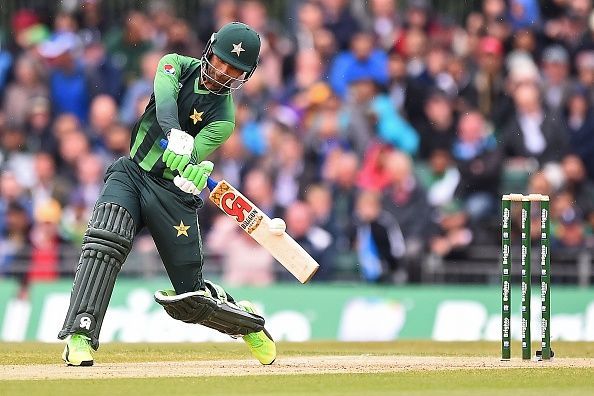 Fakhar Zaman came into limelight after his excellent performance in the ICC Champions Trophy 2017. He scored 252 runs in 4 matches at an average of 63 with a strike rate of 113 and scored a crucial century in the final against India to win the tournament for Pakistan. He had a great series against Zimbabwe where he scored a mammoth 515 runs in 5 matches and averaged a colossal 257.50 runs with a strike rate of 115.
His highest score in an innings is 210* which he scored against Zimbabwe. He has also found an able opening partner in Imam ul Haq and can play freely without being restrained due to the presence of number three batsman Babar Azam.
Zaman is known for quick and aggressive starts which he has sometimes failed to convert into big hundreds due to sporadic reckless shots. He must look to be more aggressive from the onset and just needs to unleash all his shots for him to score a triple century. With his fluent stroke play and big hitting well supported by his team, the southpaw certainly has what it takes to score 300 ODI runs in an innings.
#1 Rohit Sharma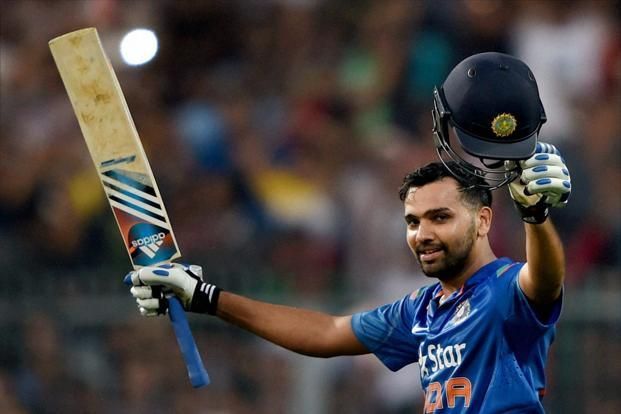 Rohit Sharma has been in the cricketing circuit for the past 11 years. Earlier, he was in and out of the Indian team due to inconsistent performances. Since 2013, he has opened the batting with Shikhar Dhawan and formed an exceptional combination for India.
Rohit's 264 against Sri Lanka at Eden Gardens is the highest score for an individual in one ODI innings. He has scored 7454 runs from 193 ODIs at an average of 47.78 and a strike rate of 88.67.
Rohit's innings are usually well placed and he suddenly erupts after having relatively slow starts. He has had 5 scores of 150-plus after 2014 and certainly is the top candidate for achieving this milestone. He is the only batsman to have scored three double hundreds.
The elegant right-hander could have reached the milestone before anyone but his slow starts have affected his scores. If he gets settled into his groove, then Rohit is a very dangerous batsman to bowl to. However, at times, he has had a tendency of getting out for single digit scores and is vulnerable to accurate deliveries around the off-stump.
Rohit has the backing of an entire nation to achieve the impossible. He has to acknowledge the fact that he has the license to start scoring freely right from the first over because India has a more than capable middle order who can take control of the game even if he's dismissed. If he continues with his scoring spree, he can become the first batsman to breach the 300-run mark.