HOW DO YOU MAKE CUPCAKES EXTRA FLUFFY?
This cupcake recipe is already quite fluffy. For an extra fluffy cupcake, separate your eggs. Add the yolks in to the batter and beat the egg whites separately. Fold the egg whites in with the finished batter for the ultimate fluffy cupcake.
HOW DO YOU KNOW IF YOUR CUPCAKES ARE DONE?
Gently tap the top off the cupcakes. If they feel springy and bounce back, they are done. If they jiggle, it means that the centers are not yet baked through. You can also use the toothpick test and stick a tooth pick into the center. If it comes out clean, your cupcakes are done.
HOW DO YOU FILL THE INSIDE OF A CUPCAKE?
Filled cupcakes are so delicious! If you want to add a filling to your cupcake, make the cupcakes according to the recipe. Once they are completely cooled, place your filling into a piping bag with a wide, open ended tip. Place the tip directly into the top of the cupcake and squeeze about 2 teaspoons of filling inside. If you try to add too much, your cupcake will split.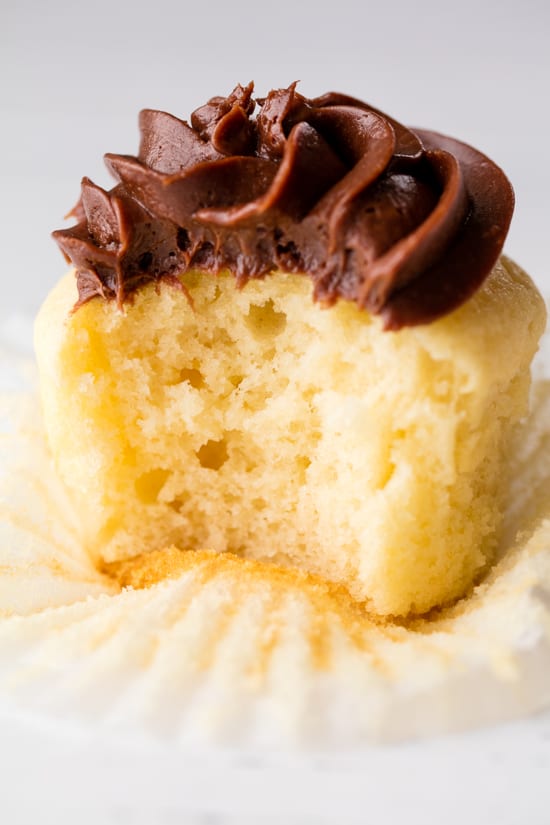 CUPCAKE BAKING TIPS:
Do not over mix your batter. You should only mix it until the ingredients are just combined. Over mixing will develop the gluten in the recipe which will make your cake rise beautifully in the oven, and then fall as soon as it is removed.
Keep the oven door closed! If you want to check on your cupcakes, simply peak through the window. Opening the door lets heat escape and lets cold air rush in. This creates uneven baking, especially with cupcakes.
Bake cupcakes in the center of the oven for the most even distribution of heat.
Remove the cupcakes from the pan immediately after removing from the oven and transfer to a wire rack to cool. Letting them stay in the pan will continue baking the cupcakes and could dry out your cupcakes.
Store cooled, frosted cupcakes in an airtight container to keep them from drying out.
Ingredients
1/4

 

cup

 

salted butter

 

softened

1/4

 

cup

 

vegetable oil

3/4

 

cup

 

sugar

3/4

 

cup

 

buttermilk

 

room temperature

2

 

large eggs

 

room temperature

2

 

teaspoons

 

vanilla extract

1 3/4

 

cups

 

all-purpose flour

2

 

teaspoons

 

of baking powder

1/4

 

teaspoon

 

salt
Instructions
Line a muffin tin with cupcake liners. Preheat an oven to 350 degrees F.

In a large mixing bowl, use a hand mixer to cream the butter, vegetable oil, and sugar together until light and fluffy. Add in buttermilk, eggs, and vanilla extract and beat until combined.

Add in flour, baking powder, and salt, and mix until just combined. Be sure to scrape the sides and bottom of the bowl to make sure everything gets mixed in.

Fill each cupcake liner half full. Bake at 350 for 14 to 18 minutes, until a toothpick inserted into the center comes out clean.

Remove cupcakes from pan and transfer to a wire rack to cool completely before frosting with your favorite frosting.