You should use home remedies for your lip care. Home remedies have two benefits- they can make your lips healthy and beautiful naturally without any side effects. Second- they can help you save lots of money from buying lip products.
Besides, the excessive use of lipstick or other cosmetics can darken, and dry out your lips by creating aging signs. On the other hand, the natural ingredients enhance the beauty and glow of your lips. By regular use of home remedies, you will have gorgeous smoother and more kissable lips.
No doubt, men like soft pinkish sexy lips that probably you can get with products for a while, but home remedies can give you permanently sexy and younger lips.
1. Lemon Juice
Lemon juice is a nice home remedy for lip care. It is a skin bleaching agent helping to fade away the darkness, dark spots, and tanning from your lips. Simply massage your lips with some lemon juice for 3 minutes, and leave some lemon juice on your lips before your bedtime. Do it daily once. If you smoke daily, it lightens the black hue from the nicotine.
Or pour some brown sugar on a slice of lemon, and rub it on your lips for 2 minutes. It removes the dead cells, thus, the lips get a brighter shade. Or you can mix a half teaspoon of each honey, glycerin, and lemon juice to make a natural lip balm. Apply it on your lips before sleeping. It both brightens the darkness and treats the dry, chapped or sore lips.
2. Olive Oil
Olive oil is a great natural ingredient to take care of your lips. It basically lightens, softens, and makes the lips healthy. By regular massaging with olive oil, your lips will get an alive, vibrant and fresh look. Olive oil is rich in natural moisturizers and nutrients.
Massage your lips with olive oil for several minutes before going to sleep. Follow this daily and you will have super soft lips. Or take a half teaspoon of brown sugar and a few drops of olive oil, and mix them well. Exfoliate your lips with this mixer. Do it not more than twice a week. It eradicates the dead skin cells and unlocks the natural color of your lips.
3. Beetroot
Beetroot is a nice way for you to turn your dark lips to pink. It has some bleaching and moisturizing properties. After using it, beetroot leaves its rosy color on your lips that stays for hours. And your lips will be permanently reddish and soft.
Massage your lips with some fresh beetroot juice for a few minutes at night. Do it daily. In 2-3 weeks your lips have a pinkish coloration. Or mix equal amount of beetroot juice and carrot juice. Rub your lips with this combination and leave them for 8 minutes. Then wash your lips off with lukewarm water.
4. Sugar
Brown sugar  is a very common home remedy for lip care. It is mainly used to exfoliate dry lips naturally. The dry air, cold weather, or smoking makes your lips dead, pale or dull. Sugar scrubbing reveals out the hidden skin that looks fresher.
Mix some sugar with some cold cream, and rub your lips with this paste for 40 seconds. Continue it once or twice a week. Or make a scrub with two tablespoons of butter and three tablespoons of sugar. Exfoliate your lips gently with this mixer. And it will restore the natural color of your lips. Or you can mix one teaspoon of honey, one teaspoon of olive oil and one teaspoon of sugar altogether. Before sleeping at night, just scrub your lips with it for 40 seconds.
5. Cucumber
Cucumber, obviously, is a wonderful skin lightening natural remedy. It restores the brighter skin of your lips. Rub your lips with a slice of cucumber for 5 minutes each day before going to bed. The skin sucks the lemon juice and gets moisturized too. Cucumber also soothes the sunburned lips.
Or rub your lips with a soft cotton ball for 3 minutes with honey. Repeating it several times a day for regular basis will give you pink lips. Or take one-half teaspoon of honey, gram flour, and yogurt, and mix them together. Leave this pack on your lips for 20 minutes, and then wash your lips off. Do it once daily.
7. Rose Water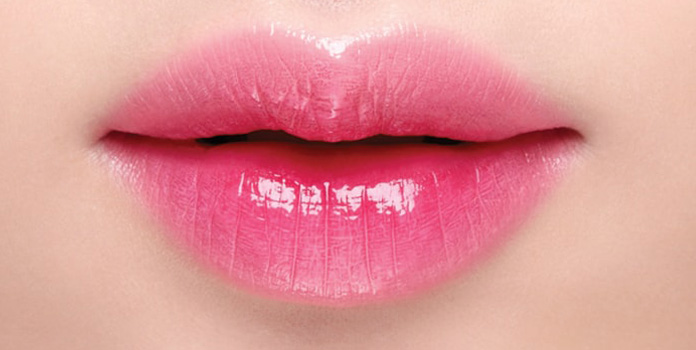 Rose water consists of three important natural properties for lip care, including soothing, cooling and moisturizing. Besides, rose petals make the lip skin rosy or pink. Mix one tablespoon of rose petal paste with one teaspoon of each honey, milk cream or butter. Scrub your lips with this combination once or twice a week.
6. Honey
Probably, honey  is the best home remedy for lip care. It has a natural humectant for skin and also lightens the dark patches of the skin. Being antibacterial, honey turns the skin healthy and supple. Leave some honey on your lips over the night. After cleansing your lips off at morning, you will see that your lips are super soft.
Or mix one drop of rose water with several drops of honey, and apply it on your lips 2-3 times a day. Or mash up some rose petals soaking in milk for one hour. Add a pinch of saffron and a half teaspoon of honey with it. Apply this paste on your lips 2 times a day. Gradually, your lips will be rosy and naturally tinted color. Rose water can be used to soothe the sunburned lips too