Amit Shah was the party strategist instrumental in scripting the BJP's massive victory in the north, especially in the politically key state of Uttar Pradesh, where it won 71 of the total 80 seats.
Shah was born in Mumbai, into a well-to-do family. His father Anilchandra Shah, a businessman from Mansa, owned a successful PVC pipe business.
Congratulations Amit Shah ji , Director, Ahmedabad Dist. Cooperative Bank, on your bank winning 1st prize in the conversion of old notes to new race. 750 Cr in 5 days!

Millions of Indians whose lives were destroyed by Demonetisation, salute your achievement. #ShahZyadaKhaGaya pic.twitter.com/rf1QaGmzxV

— Rahul Gandhi (@RahulGandhi) June 22, 2018
Shah is one of the recent BJP members who rode the Modi wave and resurrected his career. He is known to be a close confidante of Narendra Modi, and has stuck to him for decades.​ 
When the 'Modi' juggernaut started gaining prominence against an incumbent Congress, Shah, as Modi's second in command, got an opportunity to resurrect his failing career. Because of his poor interpersonal skills as quoted by many reports, many ministers started distancing themselves as soon as the CBI started probing Shah's involvement in the Sohrabuddin fake encounter case. But, post that, he has kept mum on his past and worked towards building a strong team with Modi's other men.
Uttar Pradesh and the change in fortune: 
Shah had taken charge of the party's fortunes in Uttar Pradesh in 2013, and had also declared that India's most populous state would lead the NDA's return to power in the general elections. This proved right and he was able to pave the way for the BJP in Uttar Pradesh despite the Yadavs and Mayawati clout running high in the state. As a result, there was a complete washout for both Samajwadi Party (SP) and the BSP. The only drawback during this period came when Shah used hate speech and asked people to avenge the Muzzafarnagar riots.
As a prominent politician, he receives Z plus security cover from government
The recent attacks on BJP leaders has left the party in a sticky situation. Adding to that, BJP leader Gopinath Munde's death has led the party to provide Z+ security to all its senior leaders, including Shah. With his new post, Shah's security takes centrestage as the BJP wants to make sure its leaders are safe.
The 'Sangh' connection
Shah was involved with the Rashtriya Swayamsevak Sangh (RSS) since childhood, participating in the neighbourhood shakhas as a boy. He formally became an RSS swayamsevak during his college days in Ahmedabad. He first met Narendra Modi in 1982, in the Ahmedabad RSS circles. He holds a Bachelor's degree in Bio-Chemistry and was an RSS volunteer and a leader of the BJP's youth wing, the Akhil Bharatiya Vidyarthi Parishad (ABVP).
At that time, Modi was a minor RSS pracharak, working as in-charge of youth activities in city. This is where the Modi-Shah teamwork came to the forefront.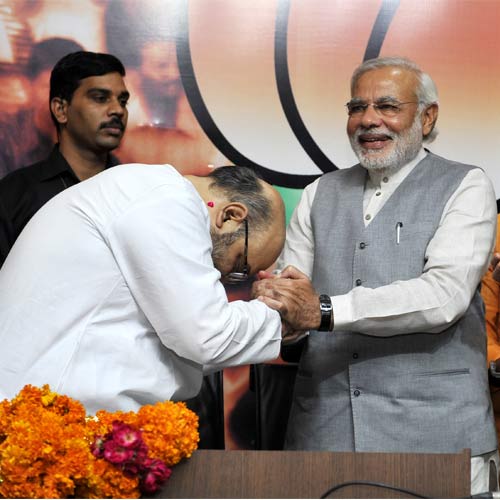 The 'Sohrabuddin' case
When the CBI named him in its chargesheet in the murder of small-time gangster Shohrabuddin Sheikh, Shah went virtually underground in the months before his arrest. He stopped using his official mobile phone and his official car. He was arrested on July 25, 2010. He left jail three months later on bail. Shah was charged with murder, extortion, kidnapping besides five other sections of the Indian Penal Code (IPC) in connection with the killing of Sheikh in an allegedly fake encounter, and, later for eliminating his wife Kausar Bi and associate Tulsiram Prajapati too.
Till the Sohrabuddin fake encounter case came back to haunt him, Shah's control over politics in Modi's domain was strong. Before the CBI net started closing in on Shah in 2010, he was even considered an option for chief minister of Gujarat when Narendra Modi moved on to national politics. But after he was banned from entering Gujarat, Anandiben Patel was elected the chief minister of the state.
Shah was charged, arrested and jailed in the Sohrabuddin case and was granted bail by the Gujarat High Court. A rider followed that he must leave Gujarat and stay away till the Supreme Court decided on a CBI plea that his bail be cancelled.
In 2012, the top court confirmed bail for Shah and allowed him to return to Gujarat. He contested the assembly elections in December and surprised no one by posting an easy victory.
Personal qualities
Shah is known to be a keen strategist and organiser, and has the skills needed to pull the BJP out of the morass it is in in UP – in recent elections it has always come in at number 4 in four-cornered contests. Besides this, Shah is known to be extremely close to prominent BJP leaders, including Rajnath Singh and Narendra Modi. Networking is said to be one of Shah's biggest qualities.
Performance in political battleground
In December 2002, when Narendra Modi first crushed the Congress to win a record 126 seats in the 182-member Gujarat Assembly, Shah won by the highest margin of votes, over 1.58 lakh, even higher than Modi himself. His constituency, Sarkhej, elected Shah again in 2007; he bettered the margin of victory winning by 2.35 lakh votes. In 2012, there was no Sarkhej thanks to delimitation. When Shah returned to Gujarat, there was a major power shift as Anandiben Patel had risen. She, too, was a close aide of Modi. But Shah proved his mettle after he was appointed BJP general secretary on party president Rajnath Singh's new-look team and was given charge of crucial UP.
His promotion this year did not go down well with many in the party who see him as a big liability because of the criminal charges he faces in the Sohrabbudin and Tulsiram Prajapati cases, from the time he was the powerful minister of state for home in Gujarat.
The next step
While debates intensify about his elevation over recent credentials, Shah has reached the pinnacle as BJP president. The party, known for its right-wing agenda, continues its march and the budget is awaited. What will be more interesting is Amit Shah's role in BJP's future politics and his power equation with India's PM Narendra Modi.