India's maternal mortality rate is high and accounts for 20% of global deaths occurring due to preventable causes related to pregnancy and childbirth. Though the maternal mortality ratio has dropped from 212 deaths per 100,000 live births in 2007 to 130 deaths in 2014-16, the decline is not enough to meet the Sustainable Development Goal target of 70 deaths per 1,00,000 live births, and only three states – Kerala, Maharashtra and Tamil Nadu have been able to meet the target till date.
The 2018 Health Index spearheaded by the government's policy think-tank, the NITI Aayog, and the Ministry of Health and Family Welfare have highlighted large gaps in overall performance of health indicators between the states and union territories.
However, having data at the sub-state/district level will help improve health indicators and the latest initiative by the Harvard University and partners based on the NFHS-4 have mapped development indicators, and procured data reveals high burden of maternal health in West Bengal, Madhya Pradesh, Uttar Pradesh and Bihar.
Anemia is a known cause of maternal deaths and risk factor for low birth weight. This is a major determinant for infant morbidity, mortality and long-term impact on health outcomes in adult life. Evidence suggests ante-natal care and institutional delivery as key health interventions to reduce maternal and child deaths.
Despite the evidence, almost 53% women in India continue to suffer from anemia, and the absolute gap between the highest and lowest prevalence across parliamentary constituencies is 57.5%. West Bengal, Jharkhand, Dadra and Nagar Haveli, Chandigarh and Rajasthan have the highest proportion of anemic women.
Constituencies with the greatest proportion of anemic women are Purulia in West Bengal, 80%, which is represented by Mriganka Mahato of the All India Trinamool Congress, Dadra and Nagar Haveli has 75.9% affected women, which is represented by Natubhai Gomanbhai Patel of the reigning BJP, then 74.4% in Chandigarh, Singhbhum in Jharkhand also has the same number of 74.4% of anemic women population, and Belurghat in West Bengal too has (74.4%) of women who suffers from the iron deficiency disease of anemia. These constituencies are represented by the BJP's Kiron Kher, BJP's Laxman Giluwa and the TMC legislator Arpita Ghosh respectively.
Kerala, Nagaland, Manipur and Mizoram have the lowest prevalence of anemia. Thiruvananthapuram, which is the constituency of INC's Shashi Tharoor, has 22.5% of women suffering from Anemia. However, the northeastern state of Nagaland has the lowest prevalence of this disease amongst its female population, which is a mere 23.5%. The constituency is represented by Tokheho Yepthomi of Nationalist Democratic Progressive Party.
Low birth weight (LBW) prevalence in India is 18%, with no substantial decline in the incidence over the past few decades. The two constituencies with highest LBW are Mandsaur and Ratlam from Madhya Pradesh. Mandsaur has a LBW ratio of 35% and Ratlam of 30.5%. Both the constituencies are represented by BJP's Sudhir Gupta (Mandsaur) and Kantilal Bhuria (Ratlam) respectively.
Followed by BJP's Manoj Rajoria of Karauli-Dhaulpur in Rajasthan with a rate of 28.3%, Rampur in Uttar Pradesh has 27.5% and is ruled by BJP's Nepal Singh, Sambhal in Uttar Pradesh has 27.1% and represented by BJP's Satya Pal Singh, North West Delhi area in NCT of Delhi has 26.8% of LBW represented by Udit Raj who was with the BJP but now defected to Congress. Ujjain in Rajasthan has 26.8% of LBW, here the sitting MP is Chintamani Malviya of BJP. The absolute gap across parliamentary constituencies is at 31%, with the Northeastern state of Mizoram (4.1) with lowest prevalence of LBW.
The Indian guidelines on maternal health recommend at least three antenatal (ANC) visits, but data shows poor coverage of ANC, averaged at a mere 31% across the 543 constituencies of the country. The worst are across Uttar Pradesh and Bihar with eight constituencies below 10% women who availed minimum of four ANC visits.
Constituencies with low coverage are Bahraich in Uttar Pradesh 4.4% of BJP's legislator Savitri Bai Phoole, Begusarai in Biha 7.9% of BJP's Bhola Singh, Katihar in Bihar 8.9% of Nationalist Congress Party's Tariq Anwar, Nalanda in Bihar 9% represented by Janata Dal's Kaushalendra Kumar, Darbanga in Bihar 9.4% of BJP's Kirti Azad, Madhepura in Bihar 9.6% of Rashtriya Janata Dal's Pappu Yadav and Kaisarganj in Uttar Pradesh 9.9% of BJP's Brijbhushan Sharan Singh. The government should make efforts to increase the level of awareness and knowledge among women about the adequate utilisation of antenatal care services.
The safe motherhood intervention-Janani Suraksha Yojana (JSY) under the NHM was launched with objective of reducing maternal and infant mortality by promoting institutional delivery among pregnant women. An observational study on JSY has found it to increase institutional delivery but calls for improved implementation programme. This is depictive from the average of 35% women availing services across the 543 parliamentary constituencies.
There are 15 constituencies which have a very low coverage (less than 5%) of women availing these health services. These are spread across Gujarat parliamentary constituencies of Ahmedabad West (1.6%) of BJP's Kirit Premjibhai Solanki, Rajkot (3.7%) of BJP's Mohanbhai Kalyanji Kundariya, Banas Kantha (4%) of BJP's Haribhai Chaudhary, Gandhinagar (4.1%) of BJP's Lal Krishna Advani, followed by Maharashtra's Aurangabad (3.1%) of Shiv Sena's Chandrakant Khaire, Satara (3.8%) of NCP's Udayanraje Bhonsle, Jalna (4.7%) of BJP's Raosahib Patil, Parbhani and (4.9%) of Shiv Sena's Sanjay Haribhai Jadhav.
Besides these, three BJP constituencies of Karnataka Bangalore North (4.3%) of Sadanada Gowda, Bangalore South (4.3%) of late Ananth Kumar and Bangalore Central (4.3%) of P.C. Mohan are also under availed by the residents of these area.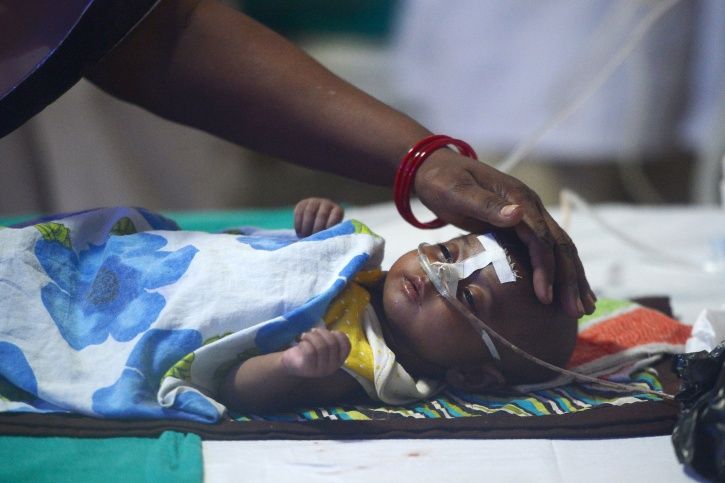 The poor utilisation of services under the JSY, also reflects the low rate of institutional deliveries, with the sole exception of Gujarat attributed to the success of state run program, Chiranjeevi Yojana for improving access to institutional deliveries. Uttar Pradesh, Bihar, Jharkhand, Nagaland and West Bengal top the list of parliamentary constituencies with less than 50% institutional deliveries.
Of the 14 constituencies with less than 50% institutional deliveries, nine of them fall under the BJP. Namely Shrawasti in UP 35.6% of Daddan Mishra, Sitamarhi in Bihar 37.3% of Ram Kumar Sharma, Bahraich in UP 37.9% of Savitri Bai Phule, Sheohar in Bihar 43.4% of Rama Devi, Singhbum in Jharkhand 44.9% of Laxman Guliwa, Purvi Champaran in Bihar 45.1% of Radha Mohan Singh, Dumariyaganj in UP 45.3% of Jagdambika Pal, Darbhanga in Bihar 47.1% of Kirti Azad, Kaisarganj in Uttar Pradesh 48.9% of Brijbhushan Singh and Madhubani in Bihar 49.1% of Hukumdev Narayan Singh Yadav.
The data reveals clear inequality in maternal health across parliamentary constituencies in terms of maternal mortality rate and uptake of services like ANC or institutional birth. There are overlapping constituencies with poor performance of maternal health indicators like poor utilisation of JSY, less than 10% women receiving IFA tablets and low rate of institutional delivery. The parliamentary constituencies includes Bahraich, Shrawasti, Kaiserganj, Sitapur in UP. Besides, Sitamarhi and Sheohar in Bihar.
Social accountability mechanism seems to be lacking among majority of parliamentary constituencies. BJP with the biggest stake which is 268 out of 543 have the worst affected constituencies in terms of maternal health indicators. The NITI Aayog 2018 Health Index calls for regular tracking of health indicators at the state level with repetitiveness of priority areas.
A step further would be to go sub-state level to districts as well as parliamentary constituencies to have a greater degree of accountability of the MP's for implementation of programs on maternal health. And also develop monitoring mechanisms for improved maternal health outcomes. The Member of Parliament Local Area Development Scheme could also be utilised for development of those areas which are on priority list and need immediate action.