Tens of thousands of farmers, some carrying skulls of those who committed suicide, others bare-bodied in the winter sun and many just faces in photos carried by their widows, were on the streets in the heart of Delhi today as they marched to parliament demanding loan waivers and better prices for their produce.
They had camped overnight at Ramlila ground after gathering from different parts of the country on Thursday. With the massive two-day protest months before Prime Minister Narendra Modi's government seeks re-election, the farmers hope to be heard in the capital. The protesters, backed by opposition politicians including Arvind Kejriwal, Sharad Pawar, HD Deve Gowda and others marched under heavy security and traffic restrictions near parliament.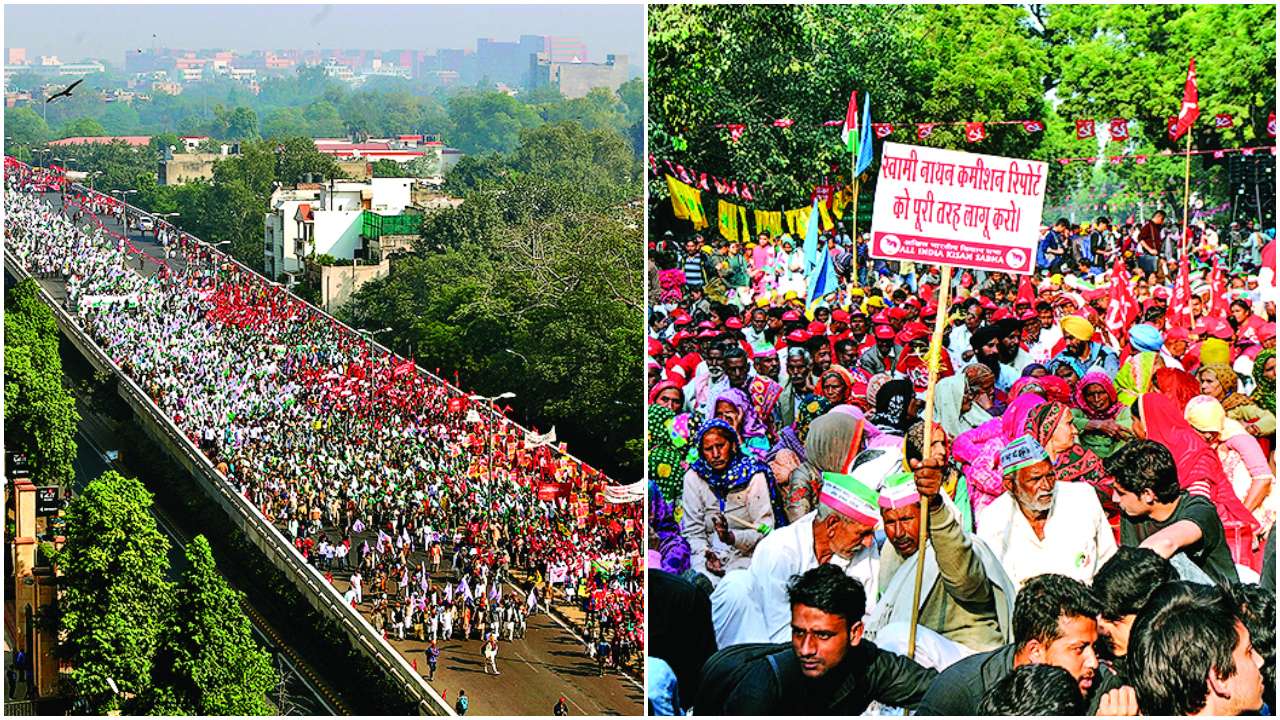 Here are the top 10 updates on Kisan Mukti March:
The marching farmers were stopped at Jantar Mantar which has been a popular site for protests in the capital. The farmers later assembled near the Parliament Street Police station where their leaders addressed the protesters.
Farmers from Andhra Pradesh, Telangana, Gujarat, Madhya Pradesh, Maharashtra, Tamil Nadu, West Bengal and Uttar Pradesh reached Delhi on Thursday and spent the night at Ramlila Ground.
A group of women from Telangana, whose farmer husbands committed suicide, hung pictures of their men around the neck as they marched on the streets of Delhi.
Yogendra Yadav of Swaraj India led a 26-km protest rally from Bijwasan to Ramlila Maidan on Thursday. Farmers from Odisha, Haryana and Rajasthan joined him. "We are protesting loot and exploitation of farmers. The entire country is with us. Journalists, doctors, students, artists have pledged their support," he said.
The All India Kisan Sangharsh Coordination Committee or AIKSCC, the umbrella body for farmers' groups, demanded a special session of parliament to pass bills seeking a loan waiver and better prices for crops. It said 21 political parties have extended their support to the bills. It has also written to Prime Minister Narendra Modi to join the protest march. Today's rally is the fourth major farmers rally led  by the organisation in the last year and a half, which represents over 200 groups.
"My wife and children have told me that I should fight and stay even for a week in Delhi, if needed," said Kartar Singh, a sugarcane farmer from Uttar Pradesh. He was among the thousands of farmers who braved the chilly night at Ramlila Ground.
Veteran journalist P Sainath who spent time with the farmers last night pointed out to what he called a larger agrarian crisis. "What you are witnessing in the country is bigger than a drought. The farm suicide data has not been published in the last two years. The figures stopped at 2015," he told NDTV.
Social activist Medha Patkar said many political leaders, including Delhi Chief Minister Arvind Kejriwal and Nationalist Congress Party chief Sharad Pawar, are expected to participate in the rally. National Conference leader Farooq Abdullah and Trinamool Congress' Dinesh Trivedi, Loktantrik Janata Dal (LJD) chief Sharad Yadav were among the others who were expected to address the farmers.
Traffic was affected in several parts of central Delhi as the farmers began their march from the Ramlila ground this morning. Delhi Traffic Police is tweeting live updates on the route taken by the farmers and asked commuters to stay updated.
With agriculture contributing about 15 per cent to India's economy, weak farm prices and growing agrarian distress are threatening to hurt the ruling BJP as it faces a critical test in the elections in five states ahead of general elections next year.
This cartoon clearly depicts the contradiction between our priorities and the priorities of those who are ruling us. #RejectDivisivePolitics
Join #KisanMuktiMarch pic.twitter.com/0Xf1FWmglE

— sarika chaudhary (@scsarika4) November 28, 2018